No, that is just part of the cards name.
Also Elite is a keyword not a trait. Stormtrooper Elite has no keywords. It does have two traits however, Character and Trooper.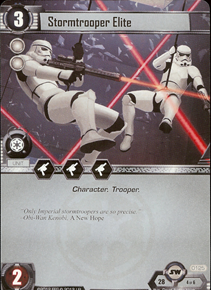 Keywords
Unlike a trait, which has no inherent abilities, a keyword
is an attribute which conveys specific rules to its card.
Traits
A trait (always represented at
the top of the text box and printed
in italics) has no inherent effect.
Instead, a trait grants its card an
attribute that may be referenced by other effects.
For card search, deckbuilder, articles,podcasts visit: Card Game DB