Dwnhmcntryboy said:
1) We were wondering what to do with the Miskatonic and Yog tokens?
2) What are they for?
3) Do we hand them out as 1 prize or 2?
4) Can we get more information about these kits?
5) How often will there be a new Kit?
6) Will there be new themes each Kit?
7) How long should the league run?
1) Give them out as prizes but it is up to the discretion of the organizer exactly how they are dispersed.
2) Typically, they are used as faction specific success tokens.
3) See #1
4) Pretty much all the information available is already provided in the kits, which is sparse. Just think of it as prize support to get people in the door to play the game and use your imagination from there.
5) They seemed to be produced at a rate of one kit per year. (see below) Disregard the season in which the kit is made as it seems to mean nothing so far.
6) Well the first kit for the LCG (2008) was the largest to date, called "Heads of Fate" I beleive. It contained 50 Cthulhu tokens to be used as currency during the course of the league and also provided 2 of each 3"x5" character (1 for each of the 7 factions) to augment your games being played with special abilities that cost between 1-3 tokens to activate their ability. It also contained 12 or 15 clay poker chips and a cthulhu themed playing card deck and two pins.
The next kit was "Seize the Elder Sign" (2009) and contained a Cthulhu themed card binder and deck of cards and a couple pins but no tokens.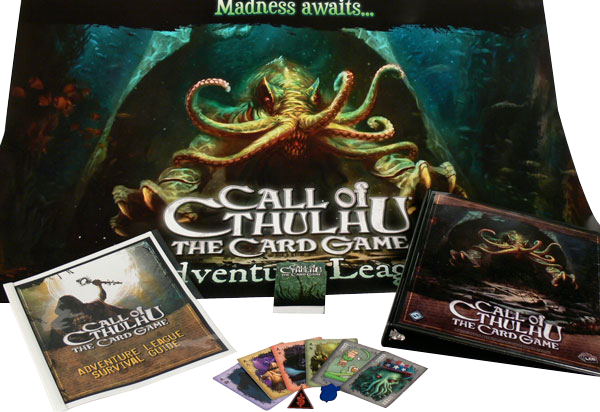 The next kit was called "Out of the Darkness" (2010) and contained 1 set of tokens for Syndicate and Agency, 8 achievement books to keep score of various win conditions that varied in points, a dye sublimated neoprene playmat and some pins.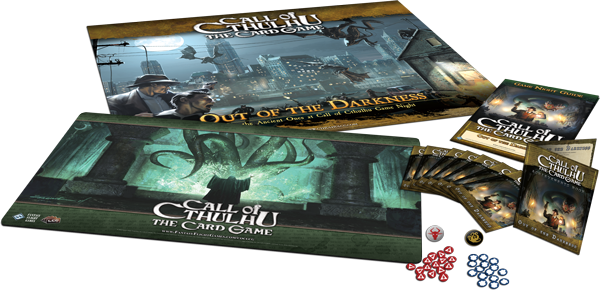 The next kit is "The sound of Insanity" (2011) and its contents I am sure you are already aware of.
So I guess the answer to that question is "Maybe"? They seem to change it up a bit everytime so far so who knows?
7) I think they give guidelines for that in the included poster/league rules. 6 weeks I beleive participating 1x per week though I have ran several in a single month. Again, the organizers discretion is best here judging by their local group.